---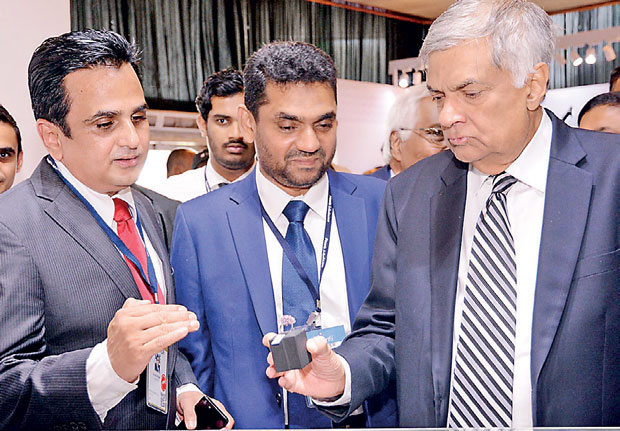 Prime Minister Ranil Wickremesinghe examining some of the exhibits at FACETS exhibition
Pic by Pradeep Pathirana
By Shabiya Ali Ahlam
The slow developing gem and jewellery sector is slated to undergo a series of changes in the near future with the government looking at reviewing the laws governing the industry to ensure greater contribution to the country's economy.

While being optimistic on the sector moving towards a fast-paced growth trajectory, Premier Ranil Wickremesinghe yesterday stressed the need for greater collaboration among the industry stakeholders and a more streamlined set of regulations to achieve higher growth.
"If the law and regulations have to be changed, then let's do it. It may also be necessary to have one law as opposed to the three to four existing today.

"We may have to look at one comprehensive piece of legislation that governs the industry rather than looking at a legislation that brings in authorities where each agency wants to consolidate its power," said Wickremesinghe at the inauguration of FACETS Sri Lanka, the only international gem and jewellery exhibition held in the country, yesterday.

Currently the gem and jewellery industry is governed by agencies such as the Geological Surveys and Mines Bureau, the Gem and Jewellery Authority and the Export Development Board. Each of these agencies functions under different sets of criteria, often creating bottlenecks in the sector.

While calling for the integration between these agencies and the industry players, Wickremesinghe pledged to engage in active discussion with the sector where the way forward would be jointly conceptualized.

Pointing out that one of the strategies adopted by the unity government towards economic development was to boost foreign exchange earnings, Wickremesinghe expressed confidence in the gem and jewellery industry becoming a major source in this regard.

However, it was stressed that the current value of US $ 500 million from the industry is not satisfactory given the number of attempts taken to liberalize the sector over the years. It was pointed out that for the industry to expand, Sri Lanka must also be better known for its jewellery sector, just as for its gems,

Explored were also the potential for Sri Lanka becoming a gem and jewellery hub, an endeavour that would require urgent decision making as to how the industry would be developed to that stage, Wickremesinge said.

He said that in the immediate future, Sri Lanka should aim at having a US $ 1.5 billion gem and jewellery trade creating 100, 000 new jobs.

Wickremesinghe also stated that the country should envisage the supply of gems not only from Sri Lanka, but also from other nations.