---
Dialog Axiata Group and Daraz Sri Lanka have entered into a strategic partnership to collaborate on digital commerce.

As the first step in this partnership, Daraz Sri Lanka is to integrate the management and business operations of wOw.lk, the online retail platform owned by Dialog Axiata Group.
The integration will help Daraz to further expand and improve its e-commerce presence in Sri Lanka.
Effective December 1, the visitors to wOw.lk will be redirected to Daraz.lk, enabling greater access to products and services through the fast-growing online retail platform, Daraz.lk.
That said, the existing wOw.lk customers, who had purchased products from its platform, will continue to enjoy the warranty structure offered to them during their point of purchase.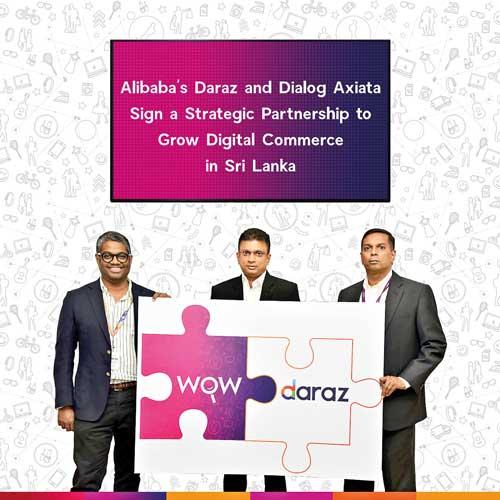 From left: Daraz Lanka Managing Director Rakhil Fernando, Dialog Axiata PLC Group Chief Executive Supun Weerasinghe and Dialog Axiata PLC Chief Digital Services Officer Dr. Nushad Perera

Over the past seven years, wOw.lk has been instrumental in establishing Sri Lanka's e-commerce presence and with this new partnership in the making, the Dialog customers will benefit from Daraz as an exclusive online shopping destination. "The integration of Dialog's e-commerce operation gives Daraz a strong position in the market and allows us to drive growth more aggressively while giving our customers nothing but the best in online shopping. wOw.lk is one of the pioneers of e-commerce in Sri Lanka and we plan to build on that legacy through Daraz.lk," Daraz Managing Director Rakhil |Fernando said.

The marketplace model adopted by Daraz has proven to be successful for both shoppers and seller partners, providing greater visibility for brands and a wider range of products to shop from. Daraz's affiliation with the global e-commerce success, Alibaba, has ensured that timely and proven technology is passed down to an online market as young as Sri Lanka.

Over the three years of operations in the island, Daraz.lk has created a levelling ground for international brands as well as SMEs to be part of their journey in extending the online retail market. The latest development will result in an amalgamation of more brands, thus adding to the present 800,000 plus product assortment available on Daraz.

Commenting on the partnership Dialog Axiata PLC Chief Digital Services Officer Dr. Nushad Perera stated, "Both our organisations are strongly committed to building our country's digital infrastructure and this partnership will further enhance access to affordable digital commerce for every Sri Lankan."