---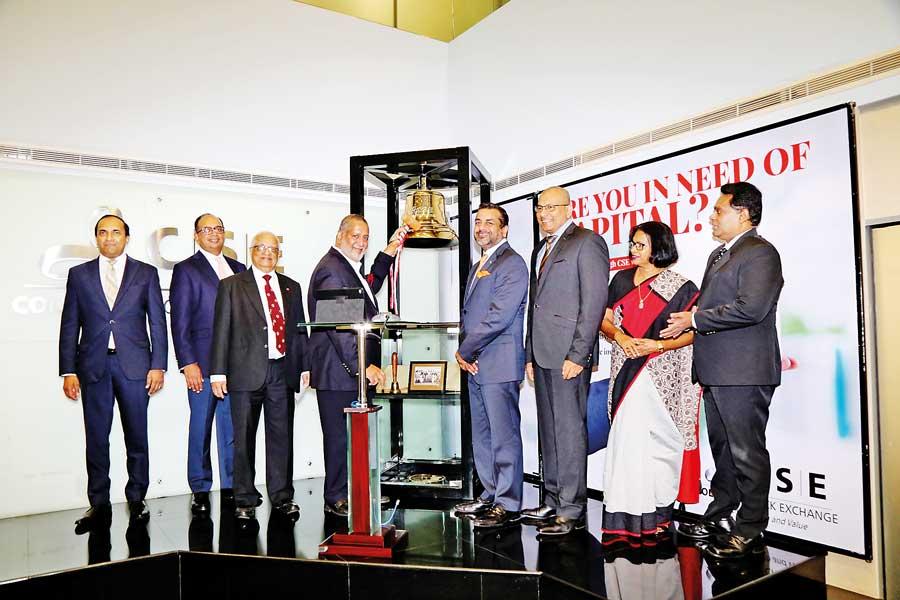 From left: CSE CEO Rajeeva Bandaranaike, CCC Deputy Vice Chairman Vish Govindasamy, former CCC Chairman Desamanya C.P. de Silva, CCC Chairman Rajendra Theagarajah, CACCI President Samir Modi, CSE Chairman Ray Abeywardena, CCC CEO Dhara Wijayatilake and CSE Director Shanil Fernando
By Shabiya Ali Ahlam
Sri Lanka's premier business association, the Ceylon Chamber of Commerce (CCC), yesterday reached its 180-year mark, a milestone that was commemorated with a bell ringing ceremony at the Colombo Stock Exchange (CSE).

Established in the year 1893 by a five-member committee, the chamber, which is the oldest collective of trade organisations in the island nation, today has grown to become the primary voice of the private sector.
Since its establishment, the CCC has diversified its services across the field; from taking a primary interest in the sale of tea, rubber and spices and commencing auctions that have been held continuously to this day, the chamber offers secretarial services to 21 affiliated associations, has a computerized business information portal, organises conferences, seminars and events on a regular basis and issues certificates of origin and provides authentication of quality survey reports.

The chamber has over 600 members, out of which, 29 organisations have been in existence for over 100 years. The chamber also has a strong representation of the capital market with about 97 entities being listed on the CSE.

Commenting on the 18-decade anniversary, CCC Chairman Rajendra Theagarajah gave assurance to the private sector that the chamber would continue to play a pivotal role in advocating to provide fresh impetus to the private sector, which in turn would allow the national economy to reap the benefits of growth.
"The chamber has come a long way since its establishment. As the premier business chamber in the country, it plays a more important role in shaping policy and advocacy, thus pushing for economic growth.

We assure our members that there will be a continuum of our efforts," said Theagarajah to the members of the CCC, at the bell ringing ceremony.

Whilst acknowledging that the CCC has played a key role in promoting cross-border investment to Sri Lanka and being in the forefront in uplifting the private sector, CSE CEO Rajeeva Bandaranaike asserted that it is imperative for the chamber to be more aggressive in its efforts.

"Businesses in Sri Lanka are operating in an extremely volatile environment. For this, there is a need to champion the policy reforms and thus we urge the chamber to continue its efforts in a more aggressive manner," said Bandaranaike.

He also added that the CSE is looking forward towards greater collaboration with the CCC in the area of investments.