---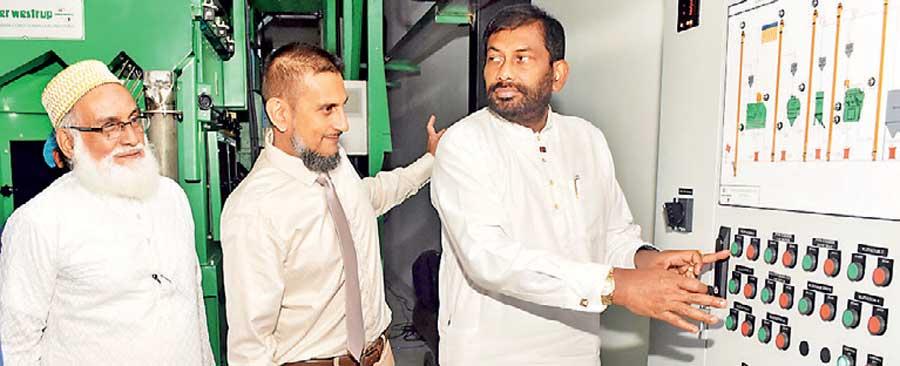 From right: Primary Industries and Social Empowerment Minister Daya Gamage inaugurates the pepper cleaning machine with Adamjee Lukmanjee Group Managing Director Murtaza Lukmanjee and Chairman Khuzaima T. Gulamhusein
Pic by Nimalsiri Edirisinghe
By Harshana Sellahewa
Adamjee Lukmanjee (Pvt.) Ltd, a subsidiary of Adamjee Lukmanjee Group of Companies established in 1865, recently launched the company's pepper cleaning facility, at its premises on Grandpass Road, Colombo 14.
Sri Lanka is renowned for exporting high-standard products, including spices and tea, around the globe and is also a notable cultivator of pepper.
However, the country has been lacking the necessary pepper cleaning machinery/equipment and the export of sub-standard products could ruin the reputation of Sri Lanka in the international market as a supplier of high-quality spices.

It was reiterated that Sri Lanka's strategy for pepper production and export was facing a downhill trend, as the raw pepper produced would be exported to India for cleaning and then exported globally as a value-added product.

Adamjee Lukmanjee, a reputed coconut products and spices exporter, with the assistance of the Primary Industries and Social Empowerment Ministry's Agriculture Sector Modernisation Project and World Bank, invested a total of Rs.48.4 million to spearhead this project.

The facility was inaugurated by Primary Industries and Social Empowerment Minister Daya Gamage, who was the chief guest at the launch ceremony.

He commended the project saying that his ministry is satisfied with the steps taken by the Adamjee Lukmanjee group to catapult value addition through pepper cleaning in Sri Lanka, which would also help boost exports for a high-quality product, "made and polished locally".

The occasion was also graced by Primary Industries and Social Empowerment Ministry Secretary Asoka Alawatha, Agriculture Sector Modernisation Project Director Rohana Gamage, Adamjee Lukmanjee Group Chairman Khuzaima T. Gulamhusein, Managing Director Murtaza Lukmanjee, Executive Director Manisha Samarajeewa and other distinguished invitees and delegates.

This initiative is expected to boost the local value-added pepper exports, which according to the Adamjee Lukmanjee group, will enable the company to directly engage with farmers and farmer communities to buy directly at fair prices, while generating new employment opportunities.

While this opens doors for adopting newer technologies for pepper cleaning in Sri Lanka, it will also assist the company in shifting to high-end markets and retail consumers offering a ready-to-use product.

The company believes that through a 100 percent clean product, it would have the capacity to directly target the local supermarkets and retail chains, eliminating the middleman.