---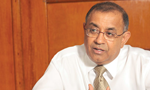 Treasury Secretary, Dr. P.B Jayasundera, the key architect of President Mahinda Rajapaksa's government said the forthcoming budget would not be full of election goodies as predicted by some quarters, but will be a development-oriented one as usual.
"Although there was a reference made in the last weekend media that the 2015 budget will be a bag full of election goodies, I can assure you that it will be a development-oriented budget with significant emphasis on the 'knowledge economy' concept through which the country has gained momentum," he said.
The government advanced the presentation of budget 2015 to October 24 from its customary date of the third week of November, with the expectation of calling a snap presidential election early next year.
However no sooner the Treasury Secretary's rebuttal that the forthcoming budget will bring election goodies, President Rajapaksa who is also the country's Finance Minister instructed authorities to reduce the price of a 12.5 kilogram domestic gas cylinder by Rs.250 with effect from today.