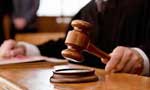 The hearing of the case over the Bharatha Lakshman Premachandra killing today began before a trial– at- bar comprising Colombo High Court Judges Shiran Guneratne (President), Padmini Ranawaka Gunethillake, and M.C.B.S. Morais.
After Senior State Counsel Thusith Mudalige addressed the judges describing the incident precisely, the leading of evidence against the accused Vithanalage Anura Thushara De Mel, Chandana Jagath Kumara, Chaminda Ravi Jayanath, KodippiliArachchilage Lanka Rasanjana, Wijesuriya Arachchilage Malaka Sameera, Vidanagamage Amila, Kovile Gedera, Dissanayake Mudiyanselage Sarath Bandara, Morawaka Dewage Suranga Premalal, Chaminda Saman Kumara Abeywickrama Galaboda, Dissanayake Mudiyanselage Priyantha Sarath Bandara, Duminda Silva, Rohana Marasinghe and Nagoda Liyanaarachchige Shaminda commenced.
A police constable giving evidence told the Judges, that he was on sentry duty at the Rahula College polling centre on the day of the incident, and the accused who came with Duminda Silva in a motorcade got down from the vehicles and started a commotion with the wife of Kotikawatte –Mulleriyawa Pradeshiya Sabha Chairman Prasanna Solangaarachchi and some others.
On being cross examined by the Counsel for the accused, the witness said he did not record the incident in his pocket log book, but however the witness said he entered the incident in the Log Book that was at the Police Station. The Counsel further questioned from the witness as to why he did not mention about his entry of the incident in the Police Log Book, in the statement that he made to the CID. The witness admitted that what he entered in the Log Book was not found in the Statement he made to the CID.
Further trial will resume today.
The case against accused Abeywickrama Galaboda will be heard in absentia under section 241 of the Code of Criminal Procedure since he has been absconding court after the killing of former Parliamentarian Bharatha Lakshman Premachandra and three others at Mulleriyawa.
Former UPFA Parliamentarian Duminda Silva and eleven other accused were indicted by the Attorney General under 17 charges for unlawful assembly, causing the murders of former Parliamentarian Bharatha Lakshaman Premachandra and three others and for committing serious injuries to Mr. Premachandra's official body guard Rajapurage Gamini on October 8, 2011 at Walpola in Mulleriyawa.
(Shehan Chamika)

WATCH