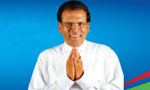 A Colombo University survey has found that common opposition candidate Maithripala Sirisena was ahead in the polls with 53% of the votes.
According to the survey report released on December 27, the assessment was made by taking into consideration the Sinhalese voter base while predicting that the Muslim and Tamil votes would be equally divided between the candidates. It revealed that under these conditions Maithripala Sirisena would be ahead by 200,000 votes.
Against the background of the main Muslim and Tamil parties having pledged their allegiance to the common candidate, the survey revealed that he was likely to secure a 900,000 majority.
The survey also revealed that 28% of those who cast their votes for President Mahinda Rajapaksa in 2010 would vote for the common candidate at this election while 11% of those who voted for the incumbent were undecided as to whom to vote.
According to the survey, 38% of first-time voters would vote for President Mahinda Rajapaksa and 33% for Mr. Sirisena while 13 to 15% had not decided on their choice of candidate.
The survey team was headed by Dr. Lalithsiri Gunaruwan and Dr. D.S. Jayaweera.
(Jehan Gunasekara)