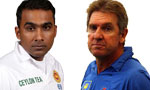 Trevor Bayliss has been backed to help England return to the top of world cricket by one of the greatest players he has worked with.
Mahela Jayawardene, the Sri Lankan batsman, captained his country for a spell during Bayliss's four years as coach of Sri Lanka — and believes he has the qualities to revive England in all forms of the game.
Bayliss, 52, is poised to become England's first Australian coach with the Ashes just six weeks away. The last series between England and Australia ended in a 5-0 whitewash for the Aussies in 2013-14, but Jaywardene is confident Bayliss can rise to the challenge.
He told Standard Sport: "I am sure he knows what needs to be done and that he will give it a good try. It is a great time for him to take the job, because this is a young England side with a lot of talented players.
"Trevor is a good old-fashioned coach who likes to work behind the scenes. He doesn't like the limelight very much and just lets the players get on with it most of the time.
"I don't think it is a problem that he never had international playing experience. A lot of good coaches around the world are in the same position and you just need to look at Trevor's record. He has been very consistent in all forms of the game."
From what Jayawardene and others say, Bayliss will be England's invisible man. Rarely will he be seen during matches, preferring to do his work on practice days and in the dressing room.
Yet his unassuming demeanour masks a steely personality. Bayliss will not tolerate those who do not reach the standards of behaviour he sets, either on or off the field.
"If he sees something wrong he is very strict about it and will keep a firm line around the team, putting his foot down to make sure certain things do not happen," said Jayawardene, who is playing Twenty20 cricket for Sussex this summer after retiring from the international game earlier this year.
"He will give the team a clear game plan but then he will let them play. He will try to help the captain in his decision-making and is very sharp on tactics, although he is not a huge guy for the statistics.
Bayliss's approach to coaching is not, however, shaped simply by his cricketing experiences. In 2009 he was on the Sri Lanka team bus that was attacked by terrorists in Lahore, Pakistan. Paul Farbrace, England's current coach who should become his No2 again, was also on the bus along with Jayawardene and the rest of the Sri Lankan players and staff. Six policemen and two civilians were killed in the attack, while Jayawardene was one of six players to suffer injuries.
Jayawardene said: "We all reflected on how lucky we were with the people we are close to, and Trevor is a good family man. Those values are important to him. That was a time when we all had to get together and get through it. Things go wrong in life and you need a coach who understands about players' families and their lives outside cricket. You need to have a sense of perspective on those things."
Like Jayawardene, Farbrace believes Bayliss dislikes attention. He said: "He is not someone you will see a great deal. It's not all about him. He will not be sat out front. He works with players then encourages them to go out and play. Trevor is very knowledgeable with good experience and is also very calm. He doesn't say a great deal but when he does, people listen."
(standard.co.uk)