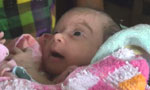 The Peradeniya Police said they were hoping to obtain a court order to find suitable foster parents who wish to adopt the now 22-day-old infant girl, who was abandoned by a roadside near the Dangolla Junction, until such time a permanent arrangement could be made.
The infant was admitted to the Peradeniya Teaching Hospital after she was transferred from the Kandy Teaching Hospital after undergoing surgery.
Kandy Hospital Director Dr. Ratnayake told Daily Mirror that the infant's post-surgery health condition was stable. "The infant has been diagnosed with an uncommon birth defect. Our surgeons operated on her sucessfully and now she is in good health," Dr. Ratnayake explained.
Police Spokesman Ruwan Gunasekara said with the infant's mother not yet being identified, we are looking for suitable fosterparents to adopt the girl temporarily.
"The Peradeniya police has already received several requests from people willing to adopt the infant. But it has to be done through proper channels and is the reason to seek a court order," he said.
The infant found abandoned by the wayside on October 7 by the Peradeniya Police Women and Children's Bureau.
A note reportedly written by the infant's mother was found at the scene citing her inability to bring up the child because of economic difficulties and requesting that suitable parents be found to adopt her little daughter. (Piyumi Fonseka)