---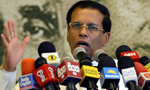 Common Opposition candidate Maithripala Sirisena today pledged to form a national government comprising all political parties represented in Parliament after he wins the presidential election.
Mr. Sirisena who addressed a meeting at the UNP headquarters Sirikotha said this national government would be for a period of 100 days because he expected to complete the implementation of the much-needed reforms by then.
He said his struggle was not only to abolish the executive presidency but to save all political parties.
"Any person running for a third term as the executive president is bound to destroy all political parties," Mr. Sirisena said and underscored the fact that even the SLFPers had lost their party because of the personal agendas of a few people and requested all political parties to place their trust in him.

He said he will follow great leaders such as Mahatma Gandhi and the former South African President Nelson Mandela who stepped down from office after his country implemented its political reforms.
UNP Leader Ranil Wickremesinghe said the new government that would be installed in January would be made up of all political parties and the ministers selected from those parties.
He said this government will implement all the essential reforms and added that they could go their separate ways and contest the general elections based on their ideological policies. (YP & SD)
Video By Sanath Desmond