---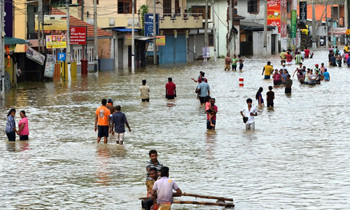 Almost 650,000 people belonging to 170,486 families in 15 districts are still affected by the floods as of last afternoon, the Disaster Management Centre said today.
The 15 districts still affected are Ratnapura, Hambantota, Kalutara, Matara, Matale, Gampaha, Colombo, Kegalle, Nuwara Eliya, Vaviniya, Mullaitivu, Colombo and Galle.
While the death toll rose to 206 by today, 92 persons were still reported missing. The highest number of deaths was reported from Ratnapura and it stood at 84 while 63 had died in Kalurata, 31 in Matara, 15 in Galle and 4 in Kegalle.
Meanwhile, the Department of Meteorology predicted showers in the Western, Sabaragamuwa, Southern, Central, North Central and North Western provinces with occasional showers expected to exceed 75mm while the seas could be rough.
The landslide warnings were still effective in Ratnapura, Kegalle, Galle, Kalutara, Hambantota and Nuwara Eliya Districts.
People in some areas including Bulathsinhala in Kalutara District were still without electricity. At least 25,000 school children are said to be left without school books and stationery in the affected areas.
It is anticipated that risk of diseases such as Dengue and diarrhea could start spreading soon as the post flood era is approaching gradually