---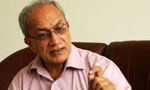 Former Janatha Vimukthi Peramuna (JVP) Leader Somawansa Amarasinghe today announced that he had resigned from the party.
Amarasinghe is the International Affairs Secretary of the JVP. Mr. Amarasinghe told journalists that the JVP had not made a conscious effort to use this golden opportunity to come to power given today's political situation. He said people had lost faith in the two main political parties of the ruling classes while the JVP too was fast declining in popularity.
Mr. Amarasinghe critisised the JVP and said the party should understand Sri Lanka's culture which is basically based on Buddhism.
"We in the JVP had to turn our backs to the TV cameras when we wanted a 'pirith nula' tied on our wrists," he said as an example of not being in tune with different cultures.
Mr. Amarasinghe said he would form a new political party but was not keen on inviting anyone else from the JVP to join though they were free to follow the policies of their choice.
(YP)