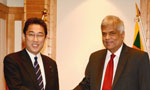 Sri Lanka will support Japan's effort to secure a seat in the United Nations Security Council (UNSC), Prime Minister Ranil Wickremesinghe has assured Japanese Foreign Affairs Minister Fumio Kishida, the Prime Minister's office said today.
At the meeting with Mr. Kishida at the Imperial Hotel in Tokyo, Mr. Wickremesinghe has said the representation by Asian countries in the UN Security Council was not sufficient and Sri Lanka would back Japan to overcome this shortcoming.
He said Sri Lanka and Japan should also play a greater role in ensuring peace and development in the Asia Pacific Region.
The Prime Minister said Sri Lanka also appreciated the support given by Japan at this year's UNHRC sessions and recalled that Japan was among the five countries which fully backed Sri Lanka at these sessions.
He briefed the Japanese Foreign Minister on the political situation in Sri Lanka and underscored the fact that Sri Lanka's two main political parties had come together to ensure good governance and democracy.
Mr. Kishida pledged Japan's assistance to Sri Lanka in the field of science and technology. He said the Japanese government appreciated the efforts made by the Sri Lankan Government to turn Sri Lanka into a new nation. He lauded Sri Lanka for adopting a balanced foreign policy.