---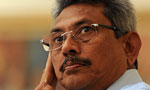 Supreme Court Judge Buwaneka Aluwihare who was one of the three judges appointed to hear the Fundamental Rights application filed by former Defence Secretary Gotabaya Rajapaksa, withdrew from the case today citing personal reasons.
The counsel for Rajapaksa, Romesh de Silva PC urged the Court to immediately refer the matter to the Chief Justice to nominate another judge as it's a matter of grave urgency. He informed the court that he expects to hear the matter today.
However, the Chief Justice directed the case to be heard by a two judge bench comprising of Justices Eva Wanasundara and Sarath de Abrew.
Mr. Rajapaksa earlier filed the FR petition before the Supreme Court seeking an interim order to prevent his arrest.
(Lakmal Sooriyagoda)