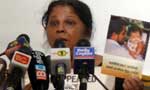 Missing journalist Prageeth Eknaligoda's wife Sandya today requested the Army to handover any army officers connected to the disappearance of her husband to the CID.
She told a news conference that she had received information regarding an army officer connected to her husband's disappearance imprisoned in a camp at either Girithale, Minneriya or Batticaloa.
"The Rajapaksa regime is connected to the disappearance of my husband. We fear that he may have been bumped off and we would not be able to listen to his story. Therefore I request the Army Commander to hand over any officer connected to my husband's disappearance to the CID for further investigations," she said.
Ms. Ekneligoda said even though an investigation had begun under the Maithripala-Ranil government, the CID had not submitted its report Prageeth's disappearance.
"I request the President to direct the CID to do a thorough investigation the incident into the disappearance of my husband. The Rajapaksa government did nothing about investigating my husband's disappearance when they were in power. Now they are talking nonsense saying if the UPFA wins the election, it will investigate the disappearance," she said.
Two military intelligence officers were arrested in connection Pragneeth Ekneligoda's disappearance last week and The CID is expected to question two army officers in the North Central Province based on the information given by the two suspects.
The veteran journalist went missing on January 24, 2010 in what was believed to have been another of those abductions which were rampant at the time.
(Darshana Sanjeewa)