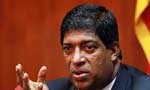 While stating that the amendments made to the budget 2016 would incur addition expenditure of Rs 7 billion, Finance Minister Ravi Karunanayake yesterday informed Parliament that he would present a detailed statement on December 19 to the House outlining how the expenditure is going to be met.
Responding to an oral question raised by Opposition MP Bandula Gunawardane, the Minister said adjusting of taxes levied on beer would give additional revenue and there would be no issue.
However, he said the government would have to divert funds allocated to construct one of the proposed hospitals in order to grant free car permits demanded by the doctors.
Also, the Minister refuted the claims made by the International Monetary Fund (IMF) that the country's economic outlook was bleak.
He said the only issue was the balance of payment disequilibrium, which he assured, would be resolved soon.
But he said the impact of global economic turbulence on Sri Lanka was left to be seen.
However, he said the government would make its own decisions on how to act with regard to handling of the economy and would not follow the IMF.
(Yohan Perera)