---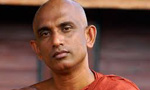 Jathika Hela Urumaya Parliamentarian Athuraliye Rathana Thera said his Facebook account and email account had been hacked today.

Ven. Rathana Thera said it was not done by the respective companies but must have been by some individuals in Sri Lanka.

"Someone must have hacked into my accounts and blocked them," he said.