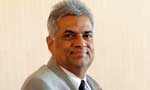 Sri Lanka would officially request the European Union to restore the GSP plus Status today as the human rights issue, which the country had been facing for the past few years had come to an end, Prime Minister Ranil Wickremesinghe said today.
Mr. Wickremesinghe told trade unionists that he met last afternoon had said Minister of Foreign Affairs Mangala Samaraweera would make a request from the European Union in writing today as all issues pertaining to the UN Human Rights Commission had come to an end.
The Prime Minister who sounded optimistic on getting a resolution calling for a domestic human rights probe mechanism would be passed unanimously
He said over 18 nations have signed it together with Sri Lanka.
"Sri Lanka's intention is to get all UNHRC member states to support instead of dividing it," the Prime Minister said.
Mr. Wickremesinghe said those who were opposing the resolution were ones who wanted the country divided.
He made this point in response to a critical statement reportedly made by Member of the Northern Provincial Council Ananthi Sasitharan and former EPRLF member Dayan Jayatilleke on the UNHRC resolution.
However, the Prime Minister said he would meet all those who opposed the resolution and explain to them the facts.
(Yohan Perera)