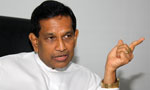 Refuting allegations that his son had abducted an underage girl, Health Minister Rajitha Senaratne today said that the girl had come willingly.
The parents of a girl on Sunday claimed that their daughter had been forcibly taken away by Eksath Senaratne, the second son of Minister Senaratne.
"The girl had come willingly because of some of the issues with her parents. He didn't take her forcibly. She had also given a statement to the National Child Protection Authority that she had come willingly because of the issues at home," Minister Senaratne said.
He said the claims were a part of mudslinging campaign against him to gain political benefits.
"Some of the elements, including former Ministers who had been affected by the action of the present government against alleged corruption could be behind these attempts," he said.
Gamini Ranasinghe, the father of the girl had complained that Eksath Senaratne had arrived in a vehicle belonging to the Ministry, which his father was attached to and forcibly took away his daughter.
Rejecting the claims, Minister Senaratne said he would take legal action against the couple for making false allegations. Addressing a media conference in Colombo on Sunday, the girl's parents claimed that the Minister's son kept her 17 year-old daughter forcibly. According to the parents, the girl was allegedly abducted by the Minister's son on February 24, in 2014 while she was returning home from school.
They also said that after several complaints to the police and the Child Protection Bureau, they managed to get released the girl and kept at the girl's aunt's home in order to do her O/L examination.
But, according to the parents, the said Minister's son had again taken away the girl on April 6, 2014 and kept her at the Minister's official residence.
"Since then, we complained to the police as well as the Child Protection Bureau in Pagoda but until now we are unable to get released her," the girl's father Gamini Ranasinghe said.
(DS)