---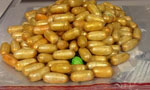 A Pakistani was arrested at the Bandaranaike International Airport (BIA) on Friday night when he attempted to smuggle heroin into the country.
The BIA Police Narcotic Division said the suspect had entered the country on a flight from Pakistan and was taken into custody when he was found behaving in a suspicious manner.
Police said an x-ray showed the heroin in the suspect's stomach. He was admitted to the Negombo Hospital to have the drugs removed.
The suspects was later produced in the Negombo Magistrate's Court and remanded till June 4.
(DS)