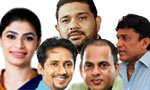 Several provincial politicians who pledged their support to the candidacy of President Maithripala Sirisena have been provided with security from Ministerial Security Division (MSD), the Daily Mirror learns.
Accordingly, Hirunika Premachandra, Asath Sally, Mano Ganesan, S. M. Marikkar and Prasanna Solangaarachchi received MSD security.
The MSD have been designed to provide security to Ministers of both cabinet and non-cabinet ranks and in certain instances for parliamentarians as well, sources said.
Western Provincial Councillor Hirunika Premachandra said she had been provided with police security on the orders of the Prime Minister. "I stand against drugs and my life has been threatened," she said.
National Unity Front Leader and Central Provincial Councillor Asath Sally said he was given police security as he constantly criticized the opposition and that his life was in danger. "There are several web sites that are against me," he said.
Mulleriyawa- Kotikawatta Pradeshiya Sabha member Prasanna Solangaarachchi's security officer also confirmed that he had been provided with special security.
ASP Ruwan Gunasekara said police protection provided to a parliamentarian could be provided to a local government politician when requested. "The intelligence unit will look into the request and make report, and if required we will provide security. We have the authority to remove the provided security by the MSD at any given time," he said.
(Indika Sri Aravinda)