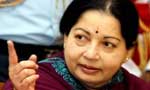 Tamil Nadu Chief Minister Jayalalithaa today urged the Prime Minister to take up the arrest of the state's fishermen at a high political level with Sri Lanka and sought immediate release of 54 fishermen and their 34 boats, including 19 who were apprehended yesterday.
"Nineteen fishermen along with their two boats from Tamil Nadu from Nagapattinam were apprehended by the Sri Lankan Navy yesterday," she said, adding this was the fifth instance of such recent arrests of Tamil Nadu fishermen in a span of a few weeks.
She noted that currently the number of fishermen in Sri Lankan custody is 54, besides 34 boats.
"It is time the issue is taken up not only through the normal diplomatic channels, but at an appropriately high political level and the release of the fishermen and the boats secured without further delay. May I request an urgent response in the matter?" she asked.
Despite her repeated requests to take up the matter with Sri Lanka and ensure the early release of the fishermen and their boats, "there has been little response and the fishermen have suffered prolonged detention."
Reiterating that the State's fishermen were being denied their right to fishing in their traditional waters of Palk Bay, she said the denial of right and prolonged incarceration caused misery and frustration among the fishermen.
"We are still awaiting the much anticipated strong and sustained diplomatic initiative to resolve the vexatious issue," she said.
The CM also sought early sanction of the Comprehensive Special Package for Diversification of fisheries at a cost of Rs 1,520 crore and a recurring grant of Rs 10 crore per annum for maintenance dredging, which she had requested in her memorandum to him in June last year.