---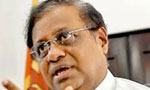 The state owned Independent Television Network (ITN) has refused a request to telecast live the UPFA election manifesto,which is to be launched today, asserting that it has to accommodate the already scheduled programmes of the channel -- in a letter sent by ITN to the general secretary of the UPFA.


The letter, signed by ITN chairman Dhammika Ganganath Dissanayake and sent to UPFA general secretary Susil Premajayantha said that, although there were a large number of requests to telecast paid election related advertisements on the channel, due to the earlier scheduled programmes and election advertisements, the channel was not able to accommodate all of them.

The letter also said the channel had taken a decision to offer one opportunity to each political party to have its main convention telecast, without interrupting television programmes; and it had already received election related advertisements.

In his reply to the ITN chairman, Mr. Premajayantha had criticised ITN's decision and said that the channel was biased towards the governing party.

"It is not clear why you have rejected our request when you have given equal opportunities to both the UNP and the JVP. We believe that your rejection of our request is unfair," the letter said.