---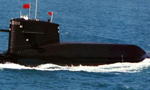 India has expressed serious concern to Sri Lanka over China's increasing military presence on the island, The Hindu newspaper reported.
Official sources in New Delhi told The Hindu that Sri Lankan Defence Secretary Gotabaya Rajapaksa's India visit last week was for a meeting in this connection. The Defence Secretary, who is the brother of President Mahinda Rajapaksa, met National Security Adviser (NSA) Ajit Doval and Defence Minister Arun Jaitley. "The meeting was held to raise the issue of a Chinese submarine calling at a Sri Lankan port last month. It is of serious concern to India's national security," said a senior official, who requested anonymity.

Changzheng 2, a nuclear-powered submarine, docked at the Colombo International Container Terminals Ltd on September 15. It was the first such submarine to visit Sri Lanka, the Sunday Times reported. Before its arrival, two Chinese naval vessels had docked in Colombo from September 7 to 13, it said.
China and Sri Lanka have strong ties, with China investing heavily in infrastructure projects on the island. China is also its vocal supporter at the Human Rights Council, where 23 countries voted in favour of an international inquiry into Sri Lanka's rights record in 2014. India had abstained.