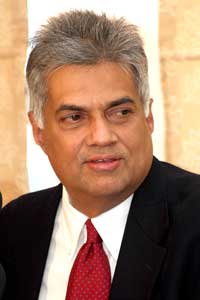 Prime Minister Ranil Wickremesinghe has instructed the committee on the cost of living not to increase the price of fuel though the price of crude oil was rapidly increasing in the world market.
The price of crude oil is increasing and the Petroleum Corporation had informed the treasury that it had to pay a high price to purchase it.
Having considered the situation, the prime minister had asked the cost of living committee not to place the burden on the masses.
The relief measures provided under the 100-day programme should not be reversed under any circumstances, he said.
Meanwhile, at a media briefing at the Finance Ministry yesterday, Minister Ravi Karunanayake said that the Indian Oil Company and the Ceylon Petroleum Corporation had requested permission to increase the price of fuel and he had refused.
He said that though the price of crude in the world market had reached a high point, it was not the policy of the government to keep on increasing the prices. He said the government would not allow the price of fuel to be increased.
(Sujith Mangala de Silva and Ranjan Kasthuri)