---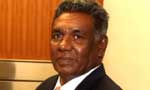 Defence Secretary Karunasena Hettiarachchi said today that an impartial investigation would be carried out into the weapons detected on a ship named MT Avant Garde.
He said the Navy had handed over its investigation report to the Ministry of Defence (MOD) today and according to the report the vessel had not followed the proper procedure in carrying out its operations.
He said the MOD would assign a special team of officers for the investigation which would begin before the weekend.
Mr. Hettiarachchi said he had also kept Prime Minister Ranil Wickremesinghe updated on this controversy.
The Navy launched an investigation into the Sri Lankan-flagged ship carrying a stock of 810 weapons taken into custody after being spotted in the sea some 12 nautical miles off Galle last Tuesday (06).
(Darshana Sanjeewa)