We need a change of government - Nadeesha Hemamali
Popular actress Nadeesha Hemamali recently made her debut into the political arena, with the announcement that she would be contesting under the United National Party (UNP) ticket in the upcoming Southern Provincial Council elections. spoke with her regarding her political vision, her preparations for the upcoming elections and her thoughts on the country's present political situation.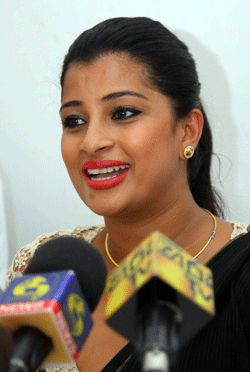 Q:
You have been nominated by the UNP a month ago to contest the Southern Provincial Council elections. What have you been doing so far in preparation for it?
Yes, I am hoping to contest from Ambalangoda for the UNP. I have decided that it is high time for me to get involved more in my political work. My priority is to serve the country. I have always been involved with social services and I will continue that work even if I am elected. I think my involvement in social services and humanitarian work should help to convince the voters that I want to help them in my capacity.
Q:
A lot of the female politicians say that their main priority is to help women and build women's empowerment. Is this the case with you too?
Actually my intention is not just to help women. Whether they are women, men or children, I want to serve everyone in the country. I always want to make Sri Lanka a better place for its citizens.



Q:
So how do you plan to help the citizens of the country?
I have many plans in mind and there is so much that could be done if I am elected. I believe we need a change in the current system and in order to achieve that we need to change the current government. We need to eradicate corruption which is rampant in every nook and corner. We all need our peace of mind and we can't get that if there isn't a change in the system.

The other thing is the cost of living which is an unbearable burden on the ordinary people of the country. As a part of the ordinary population, I too feel this burden. I am very much against it and so is my party. Therefore I want to change that and lessen the burden on the people. Stopping the suffering of the country's citizens is an urgent need.

I am working with my party to do everything I can to serve the people of this country to the best of my capacity.



Q:
How has the other party members responded to you so far?
They have all been very supportive and friendly. And I believe, as a party we can make a huge difference in the country's political atmosphere.



Q:
There have been many actresses and other popular figures seeking nominations to contest the elections. You being an actress yourself, do you believe it would have a positive effect on the country's political situation?
As potential candidates, they all have a right to contest the elections. And of course, they can make a positive change if they have a clear vision, good policies and are able to make wise decisions. They should be allowed to proceed with their work, and time will tell whether they are suitable to be in politics or not.



Q:
Why do you think people should vote for you?
I have a good vision and I will be happy to represent the people of this country. I am loyal and dedicated to my cause. I am not a corrupt person; I am genuine and I sincerely want to do a service to the people of the country. I want to make a positive change in politics.

I am a beloved and popular actress in the country and of course some will vote for me based on that. Others will vote for me because they agree with my vision and my policies. Either way, if I am elected I will serve every citizen of the country and if they give me a chance and some time, I will be able to prove it to them.



Q:
You mentioned that you have a strong vision to make a change in the country. What is it?
Like I mentioned before, my vision is to make a positive change by serving the people of the country and by putting an end to their sufferings. I am fully supportive of my party's policies. I believe that together with the UNP, I will be able to achieve my goals and make Sri Lanka a better place for its citizens.