---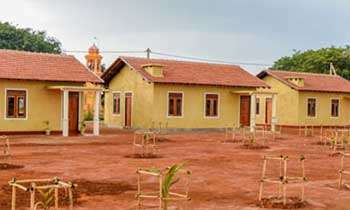 The government intends to complete construction of 4,750 houses within six months for the benefit of the people in the North under its plan to build 10,000 houses in stages, an official said today.
This project has been launched by the Ministry of National Policies, Economic Affairs, Resettlement and Rehabilitation, Northern Province Development, Vocational Training, Skills Development and Youth Affairs.
Ministry Secretary V. Sivagnanasothy told the Daily Mirror that work was well under progress and that the houses would be out of bricks and mortar/cement sand block, traditional type houses in the conflict affected areas of the Northern and Eastern Provinces - under an owner-driven modality. He said the priority would be given to internally displaced persons (IDPs), families in welfare camps and refugee returnees.
There would be a special focus on women-led families, the disabled, landmine-affected families, families of missing persons, low income groups, families living in huts with children and families with elderly persons. "The first phase of 4,750 houses is being constructed through the vote on account allocation following the decision of a high-powered steering committee.
The housing programme will be implemented through the district and divisional administration and based on the number of IDPs, families in the welfare camps and refugee returnees. Under the first phase 1,500 houses will be for Jaffna, 670 houses for Kilinochchi, 630 houses for Mullaitivu, 450 houses for Vavuniya, 350 houses for Mannar, 625 houses for Batticaloa, 400 houses Trincomalee and 125 houses for Ampara," he said.