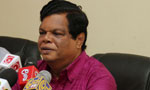 Some UPFA MPs today charged that the Financial Crime Investigation Division (FCID) was politically motivated and that was why Central Bank (CB) Governor Arjuna Mahendran had still not been summoned to the FCID over the controversial sale of CB Bonds.
MP Bandula Gunawardane said the FCID was picking and choosing its victims and that the Cabinet Sub-Committee headed by the Prime Minister was behind these moves.
"The FCID is summoning those who are alleged to have committed crimes years ago but seems adamant not to take action against Mr. Mahendran over the controversial bond issue. This is the biggest act of corruption to have taken place in recent times, but the FCID has still not summoned him," Mr. Gunawardane told a news conference.
Meanwhile, MP G.L. Peiris said they were not opposed to the investigation into allegations fraud and corruption but pointed out that they were against favoritism when it came to taking action against certain individuals.
Commenting further on the CB scandal, Mr. Peiris said six UPFA MPs including former cabinet ministers would brief the Asian Development Bank (ADB), World Bank (WB) and the International Monetary Fund (IMF) about Mr. Mahendran and his involvement in the sale of CB bonds.
(Lahiru Pothmulla)