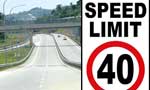 A speed limit 40 kmph has been introduced for the vehicles within the two lanes between 113km post and 114km post near Kokmaduwa and Imaduwa area of the Southern Expressway, the Road Development Authority said.
The two lanes from Matara to Colombo in the particular area were temporarily closed due to the ongoing activities, such as a process of horizontal drilling to remove water underneath the hill is being carried out by the National Building Research Organisation (NBRO) due to the landslide threats.
Expressway Operations and Maintenance Director of the RDA S. Opanayake said that the Colombo -Matara lane has been divided to facilitate bi-way traffic.
He said the move had been taken to reduce the potential accidents within the two lanes and the speed limits on other parts of the expressway remained unchanged.
"As soon as the activities of the NBRO are completed, the two lanes will be opened for traffic," he said.
The Kokmaduwa and Imaduwa sector of the Southern Expressway was closed for traffic several times since October 2 due to landslide risks in the area.
(DS)