---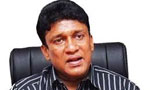 An alliance of smaller parties will submit their proposals for electoral reforms to President Maithripala Sirisena this week, a party leader said yesterday.
These parties comprising the Democratic People's Front (DPF), the Sri Lanka Muslim Congress, the Janatha Vimukthi Peramuna (JVP), the Tamil National Alliance (TNA) the Upcountry People's Front and a few others have formed a core group to advocate their rights in the evolution of a new electoral system in Sri Lanka.
DPF Leader Mano Ganeshan told Daily Mirror the core group would submit its proposals next Friday after a discussion among themselves.
Meanwhile, the government has formulated a concept paper on the contours of the proposed system. Mr. Ganeshan said the architect of this concept paper had been asked to explain whether it would not reduce the electoral representation of small parties.
(Kelum Bandara)