---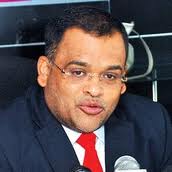 Well known businessman and Secretary to the Transport Ministry Dhammika Perera has been appointed Honarary Consul of the Republic of Senegal in Sri Lanka.
Perera has commercial interests in a wide range of sectors including banking and financial services, power and energy, leisure, manufacturing and diversified holdings.
At present he serves as Chairman of Sampath Bank PLC, Vallibel One PLC, Vallibel Finance PLC, Vallibel Power Erathna PLC, The Fortress Resorts PLC, Delmege (Private) Ltd and Greener Water Ltd.