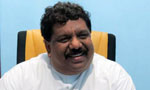 A Colombo Court today directed the Controller of the Immigration and Emigration to prevent UPFA Southern Provincial Council Minister D.V. Upul from leaving the country.
Colombo Additional Magistrate Nirosha Fernando issued this order sequent to a submission by the CID over a controversial statement made by him regarding the Police Financial Crime Investigation Division (FCID).
Addressing a public gathering on May 31, he had allegedly threatened to stone to death the officers attached to the FCID once Mahinda Rajapaksa returned to power as the Prime Minister.
The CID launched an investigation into the controversial statement made by Provincial Council Minister following his serious remarks over the FCID.
The Provincial Council Minister made this remark in the presence of UPFA Parliamentarian Namal Rajapaksa and several other local politicians representing the Hambantota district.
"Collect the name-list of FCID officers from police constables to the DIG. They should be stoned to death when Mahinda Rajapaksa becomes the Prime Minister of this country. We are waiting till that day arrives. If someone in the government opposes that, we will take to the streets against the government," Mr. Upul told the gathering.
(Lakmal Sooriyagoda)