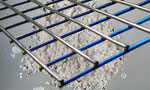 A unique method of trafficking narcotics was exposed when Sri Lanka Customs seized rolls of metal fencing mesh which contained heroin inside its cables.
Customs Narcotics Division officials based at the Midco cargo handling yard in Peliyagoda on suspicion decided to search open three rolls of metal fencing mesh that had come as an Unaccompanied Personal Baggage (UPB) from Malaysia on air freight.
A Pakistani national who had come to claim his personal baggage from the cargo yard with two other Pakistani friends were detained on suspicion and the rolls were exposed. The Pakistani national who claimed himself to be a welder had told the Customs officials that he had brought down the aluminum fencing meshes for a construction purpose in Sri Lanka.
They had departed from Lahore and had arrived at Colombo via Malaysia a week ago.
The officials had split single cables on suspicion to find a white powder, which was found to be high quality heroin, Customs sources said.
The detection which commenced on Monday evening was continuing at the time this edition went to press last night.
Extracting heroin from the thin cables was a time consuming task where the officials managed to seize about 35grams of heroin having completed 20% of their work.
The three suspects and the already recovered amount of heroin worth around Rs.350,000 had been handed over to Police Narcotics Bureau yesterday.
A senior PNB officer said the suspects were produced before the Colombo Magistrate and detention orders were sought for further investigations.
(Kurulu Koojana Kariyakarawana and Chaturanga Pradeep)