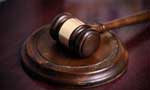 The Supreme Court of Jamaica has restored the bail of a Sri Lankan man and criticised senior magistrate Judith Pusey for revoking it.
In her decision on Thursday, Justice Georgiana Fraser, said Pusey had no 'good reason' to revoke the bail of 58-year-old accountant Godffrey Fernando.
Fernando, who is charged with overstaying, was remanded when he appeared before magistrate Pusey this week.
She ordered him remanded until a trial that's set to start on October 27.
He's being tried for failing to leave the island following his arrest for overstaying his 2012 visit.
However, his lawyer, Christopher Dunkley, says the magistrate did not make an order for the return of his client's passport, which was with the Passport, Immigration and Citizenship Agency.
He says the passport was needed because he would have to apply for a visa to go to Europe and then to Sri Lanka.
The lawyer said the man came to Jamaica to attend his son's graduation from the University of the West Indies.
It is understood he was given 90 days after landing in October 2012 and a subsequent extension that ran up to November 2013.
However, he never left Jamaica.