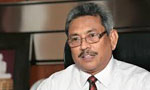 The fundamental rights application filed by former defence secretary Gotabaya Rajapaksa requesting that an interim injunction be issued against any move to arrest him by the FCID, will be taken up for hearing before the Supreme Court today.
This petition is to be heard before a three member supreme court bench comprising Justices Eva Wanasundera, Buwaneka Aluvihare and Sarath Abrew.
In his petition Mr. Rajapaksa has cited Prime Minister Ranil Wickremesinghe, the Cabinet of Ministers, the Presidential Secretary, the IGP, the Director of the CID and the DIG in charge of the FCID as respondents.
The former defence secretary has stated that the FCID was established on February 13 and is headed by Prime Minister Ranil Wickremesinghe. The FCID has already taken the petitioner's brother Basil Rajapaksa and former minister Johnston Fernando into custody.
In view of the above situation, the petitioner says that he could also be arrested and, therefore, appeals to the Supreme Court for an order staying any action that could lead to his arrest. The petitioner has also asked for an order that the gazette notification issued establishing the FCID be made null and void.