---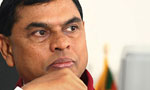 Colombo High Court today fixed for June 15 to consider revision application filled by former Economic Development Minister Basil Rajapaksa who sought bail from High Court.
He was remanded by Kaduwela magistrate in connection with the alleged misappropriation at the Divineguma Department.
Mr. Rajapaksa sought and ordered from High Court against the Kaduwela Magistrate Court's refusal to grant bail to him for a period of over one month.
High Court Judge Sarojini Kusala Weerawardena ordered the respondent to file objection on that day.
(LS)