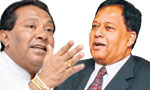 The Inter University Students Federation (IUSF) said today neither former Higher Education Minister S.B. Dissanayake nor current Minister Sarath Amunugama were responsible for the breakdown of the education sector but it was the result of the country's adverse educational policies.
IUSF Convener Najith Indika said the Higher Education Minister had taken a another adverse step by issuing a special gazette on May 7 allowing the Malabe South Asian Institute of Technology and Medicine (SAITM) to sell Civil and Mechanical Engineering Degrees.
"It is not the ministers who should be faulted but the faulty education policy which through such policies is attempting to bury the free education system in Sri Lanka. SAITM is a dangerous joke which is allowed to belittle education sector. It is pointless to replace higher education ministers if the incumbent government is also encouraging adverse policies on state education," Mr. Najith said.
He said SAITM did not have the infrastructure facilities to cater to engineering students and added that SAITM needed laboratories for Robotics and Artificial Intelligence, Geology, Hydraulics and Survey Research.
Mr. Najith said without these basic facilities, SAITM was not able to generate well qualified engineers and it would be disastrous for the country should this trend continue.
"SAITM degrees are only available for the rich who can afford about Rs.12 million even if they had not passed the GCE Advanced Level Exam," he said and pointed out that the crisis facing the higher education sector would not be resolved until the lack of space and funds to provide university admission to those who were successful at the GCE AL had been properly addressed.
(Piyumi Fonseka)