---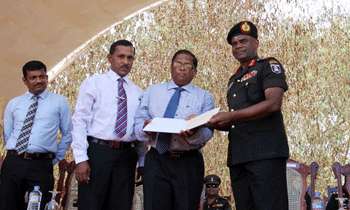 The Sri Lanka Army released a record 683 acres of land in Thelippalei to 964 legal owners during a ceremony held on Friday in Thelippalei.
Issuing a statement, the Army said the lands were released without compromising national security interests.
The ceremony was held under the auspices of Army Commander Lieutenant General Mahesh Senanayake and the District Secretary for Jaffna Nagalingam Vedanayaham.
"The release of those lands continuing for the last couple of months, following an initiative taken by the Army itself, has however not necessitated either the removal or shifting of any security formation operating in the said portion of the land in Thellippalei, Palaly," the Army said.
Release of lands, organized by the Security Force Headquarters - Jaffna (SFHQ-J) under the guidance of Major General Darshana Hettiarachchi, Commander, Security Forces - Jaffna took place as a New Year bonanza on the eve of the Sinhala & Tamil New Year- 2018.
The gesture, organized jointly by Ministry of National Integration and Reconciliation, Ministry of Prison Reforms, Rehabilitation, Resettlement and Hindu Religious Affairs,District Secretariat for Jaffna and the SFHQ-J was attended by a large gathering of people including the beneficiaries.
The statement further said Friday's release of 683 acres of the Palaly Army camp area, the biggest chunk of land released to the Jaffna public on a single day, adds a historic chapter to the government's ongoing projects of reconciliation and ethnic harmony.
Commander of the Army formally gave away documents pertaining to the release of lands symbolically to the District Secretary who was present there.