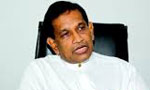 Health Minister Dr. Rajitha Senaratne alleged yesterday that a respondent involved in the controversial Avant – Garde case had offered him a bribe of Rs. 40 million to remain silent on the issue for just two weeks and that another person had offered him a bribe of Rs. 300 million.
Speaking at the weekly Cabinet media briefing at the Information Department, Dr. Senaratne said bribe was offered by a venture that earned Rs. 450 million a month.
"This is the type of inducement offered to us by various unscrupulous elements to catch us. But we have never succumbed to them. Several of my friends told me I was the only person who did not fall for these carrots. If I had accepted, I could have lived in super luxury in the rest of my life. But I value my self respect and dignity more than these inducements," he said.
A journalist: How are you going to prove that there was actually an offer of a huge bribe made to you?
Dr. Senaratne: "I have a recording of the telephone conversation concerning the bribe.
A journalist: Then why did you not lodge a complaint with the Bribery Commission, as offering a bribe is a criminal offence?
Dr. Senaratne: I couldn't do that; because if I did, a good friend of mine would have been in trouble -- as it was he who had introduced this man to me. But he has assured to me that if something went wrong or if they tried to put me in trouble he would come forward on my behalf and produce the evidence.
Journalist: Where are those ethanol and drug kingpins that the team of the Common Opposition candidate boasted of bringing to book soon after their election
victory?
Dr. Senaratne: It is a concern for me too. You know, the method by which inquiries are made about them is slow and lethargic. Though the government has changed, the system remains intact. That is the problem. I must not tell you how Colombo Stock Exchange, casino and ethanol money worked during the presidential poll.
Journalist: The Supreme Court has stayed the anticipated arrest of former defence secretary Gotabaya Rajapaksa by any law enforcement officer. What do you have to say about this ruling?
Dr. Senaratne: An excellent example of good governance and of the independence of the judiciary. The judges do not get telephone calls and midnight visits by armed personnel when a case against the government or government politicians is being heard.
You must be careful how you enjoy the benefits of good governance. I agree that it takes time to adapt to the formalities under good governance. But you must be very cautious and vigilant when you live under good governance after going through oppressive tyranny.
I must recall that when parliament was opened to the public in 1956, a person who visited parliament sat on the chair of the Speaker.
The then prime minister who was beaten under the wave of Pancha Maha Balavegaya aptly said 'The bitch went to the moon and the country went to the dogs' to describe the transformation.
Journalist: Are you unhappy about the developments?
Dr. Senaratne: No I feel sorry. It seems the people and the officials do not appreciate their new found freedom and the value to their life. It was I who fought against the oppressive and dictatorial acts and policies of former president Mahinda Rajapaksa. If he accepted my advice he would have been president even today. He listened and accepted only the hosannas sung to him by swindlers and court jesters who knew that they would be paid better if they sang songs of praise to the 'King' and the king fell prey to them and perished.
Did any of the ministers who now go after Rajapaksa give any signal or warning or direct him on the right path? No. What they said was that it was because of Mahinda that the sun and moon rose and went down. It was because of Mahinda that the birds sang and flowers bloomed. Without him there would be no country, no nation and no future. Poor Mahinda fell for this and lost everything. I feel sorry for him because he has done much for this country despite his weaknesses and foolishness.
(Sandun A Jayasekera)