---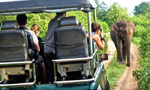 The Wildlife Department (WLD) said today the number of accidents within the Yala National Park had decreased during the past few months after the regulations to minimize road accidents and punishment to reckless drivers were strictly implemented.
New regulations were imposed after several incidents of wild animals including leopards being killed by speeding vehicles were reported in Yala National Park.
Wildlife Director General Chandrasiri Bandara said only one accident of a wild boar being hit by a vehicle was reported during the last three months.
"After several accidents were reported, we deployed a mobile patrol during opening hours and increased police patrols so that all vehicles that enter the Yala Park will be monitored. We took maximum legal action against those who violate the Wildlife Conservation Act. Some drivers were imprisoned after being found guilty of knocking down animals within the Park," he said.
Mobile phone facilities for visitors within the Yala National Park were disconnected considering animal safety because some of the vehicle drivers are known to have knocked down animals, having driven their vehicles after receiving text messages of sighting rare animals.
Mr. Bandara said humps were also put up on the roads to slow down speeding vehicles, notice boards and banners were displayed to make the public aware on the importance of upholding the law.
However, he said even despite the decrease in the number of accidents, the regulations would continue. (Piyumi Fonseka)