---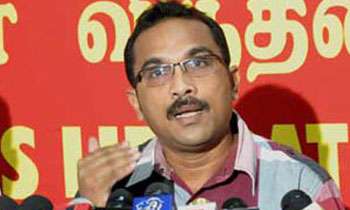 JVP MP Bimal Ratnayake said yesterday it was unreasonable for the government to increase fuel prices by citing the fuel price increase in the world market and the depreciation of the rupee, while hiding the excessive taxes imposed on fuel.
He said the government imposed a tax of Rs.45 on petrol and Rs.23 on diesel, according to statistics provided by the Ceylon Petroleum Corporation (CPC) to the COPE.
"Although the cost of a litre of octane 92 petrol is Rs.72 with all production and other costs, it was sold at Rs.117 including a rupee tax of Rs.45/50. The cost of a litre of octane 95 petrol is Rs.83 and sold at Rs.128," he said and added that a tax of Rs.23/49 was imposed on a litre of auto diesel.
The MP said the government had burdened the people through the Inland Revenue Act introduced recently and added that it could have decreased tax temporarily and provided a concession to the people, without burdening them further.
"The government is not taking any action to cut down on its unnecessary expenses and is maintaining a huge cabinet, violating the Constitution, though the national government was no longer valid," he said. (Ajith Siriwardana and Yohan Perera)