---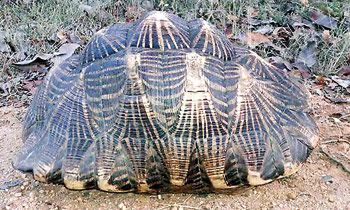 A star tortoise weighing 13 kilogrammes - believed to be the world's biggest and heaviest - has been found by wildlife officers from the Lunugamvehera National Park. This tortoise is believed to be the biggest tortoise found on far in the world.
This tortoise which belongs to the Chelonian species has been recognized by the people as striped tortoise, forest tortoise,' Mevara' tortoise,' Huniyan' tortoise (Black magic tortoise), spring bean tortoise and Batakeya tortoise.
This species has got used and adapted to the dry land properly.
The world's biggest tortoise known so far is said to be weighing between 8 to 9 kgs. Therefore, wildlife officers are of the opinion that this is now the biggest tortoise that has been found in the world. (Nayanajeewa Bandara)