---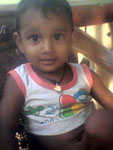 A woman and her paramour, who killed the former's two-year-old son by beating with a broomstick and buried the body on a land near the latter's house, were taken into custody by the Mahiyangana Police yesterday.
Police said the woman admitted her involvement in the incident under interrogation.
Investigations revealed that the woman who had separated from her husband lived in a rented house while being employed at a garment factory.
However, when her husband who used to often communicate with his son over the phone had been unable to get him on line, he had inquired about it from his wife. In response she had lamented that the child fell off the steps in the house and was thrown into the Kelani River.
The husband who had not believed this story had travelled to Colombo and taken her to Mahiyangana and lodged a complaint with the police.
Under interrogation she stated that she had been living with her paramour in the rented house and that he assaulted the child to death with a broomstick. She admitted that she also helped him to bury the body secretly.
Later, her paramour (29) was taken into custody by the Aturugiriya Police on information received from the Mahiyangana Police. The woman concerned was also to be handed over to the Aturugiriya Police for further action.
Crime Investigations OIC Senior Inspector M.H.G. Asoka and PC 68726 Jayaratne carried out preliminary investigations on the instructions of Mahiyangana Police OIC Chief Inspector Tissa Kumara, ASP Ujith Liyanage, SSP Chandana Galapatti and DIG Sarath Kumara. (Ranjith Karunaweera and Palitha Ariyawansa)