---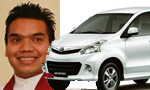 UPFA MP Namal Rajapaksa yesterday questioned if President Maithripala Sirisena or Prime Minister Ranil Wickremesinghe would consider replacing the luxury vehicles for Cabinet ministers with cheaper vehicles following the footsteps of newly elected Philippines President, Rodrigo Duterte.
"Wonder if the Prime Minister or the President will consider a similar option for Sri Lanka?" the MP tweeted.
As part of austere style of governance, incoming Philippines President Duterte had planned to replace luxury sedans with cheaper cars for cabinet members.
Media reports said Duterte had identified the Toyota Avanza MPV as the official vehicle that will transport most senior members of his administration.
Duterte, who is expected to be sworn in as president on June 30, has also vowed to make these new "ground rules" effective on the day he takes office.
Less than a week after his election victory, he announced plans to sell off the presidential yacht and wanted all aircraft assigned to the Presidential Airlift Wing to be converted to "air ambulances".