---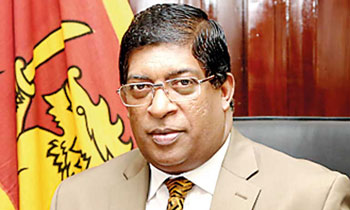 The government should reveal the reason for replacing its Finance Minister Ravi Karunanayake who was not long ago awarded the title of 'Finance Minister of the Year for Asia-Pacific-2016' by The Banker magazine, the joint opposition said today.
Commenting on the Cabinet reshuffle, JO National Organiser, MP Dullas Alahapperuma said after naming Minister Karunanayake as the Best Finance Minister a few a months ago it is a mystery as to why he had to be removed.
"The government should also clarify why Foreign Affairs Minister Mangala Samaraweera was removed. He was described as the person who was in the forefront of achieving reconciliation while helping war heroes to escape the electric chair," he told Daily Mirror.
The MP said they were of the view that the Cabinet reshuffle was based on achieving two objectives – it was to strip Minister Arjuna Ranatunga from the portfolios of Port and Shipping and to give Minister Mangala Samaraweera the media portfolio.
He said there were objections from inside and outside government against the sale of state resources, especially the agreements to lease the Hambantota Harbour to China and the Trincomalee oil tank farm to India.
"Minister Ranatunga was one of those who objected to these agreements and was clearly an obstacle to signing these two agreements. Therefore, he was given another portfolio," the MP said.
He said the government was determined to bring in Constitutional reforms by hook or by crook and to achieve this, it needed a media minister similar to the like the one from 1994 to 2000.
"This government is following the footsteps of President J.R. Jayewardene and planning to hold a referendum instead of holding elections. The government is not allowing the mandate of the people to be to operate and keep postponing local government elections. This is why it needs a media minister with the experience to move the constitution-making process forward," the MP said. (Lahiru Pothmulla)