---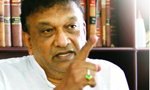 Says has cordial relations with media, will remain so in the future
Minister of Highways and Higher Education Lakshman Kiriella questioned what was wrong with issuing a letter seeking a favour for a supporter of the UNP that had been in the Opposition for more than 20 years.
He told the media today in Kandy that he would not deny that he issued a letter seeking employment to one of his supporters based on his qualifications and that it was not a violation of the policy of good governance.

The minister said some media personnel attempted to draw a wrong perspective of the statements made by politicians, but he would never get involved with controversies with the media.

"It is a baseless allegation that we insulted and harassed the media person. We have never abducted media personnel or made them disappear. I have had cordial relations with the media and it will remain so in the future. It is sad that individuals who abducted and destroyed media personnel are shedding crocodile tears for the media and agitate for media freedom. I would like to tell Wimal Weerawansa that we have never abducted media personnel by white vans. However, he must keep in mind that we have the right to express our views just as the media has the right to write. I reiterate that the issuing of the letter to a supporter to find employment was in no manner against the policy of good governance." the minister said. (J.A.L. Jayasinghe)