---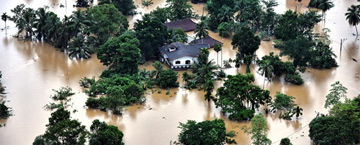 The number of deaths reported in floods and landslides was increased to 193 while 94 people had gone missing, the Disaster Management Centre (DMC) said today.
In its latest situation report, the DMC said the adverse weather condition had left 112 people injured. In total, 575,816 people of 149,678 families had been affected by the weather calamity.
The South-West monsoon unleashed torrential rains, which ravaged fourteen districts in the western and southern parts of the country on Friday and Thursday.
The disaster is described as one of the worst-ever calamities since the 2003 floods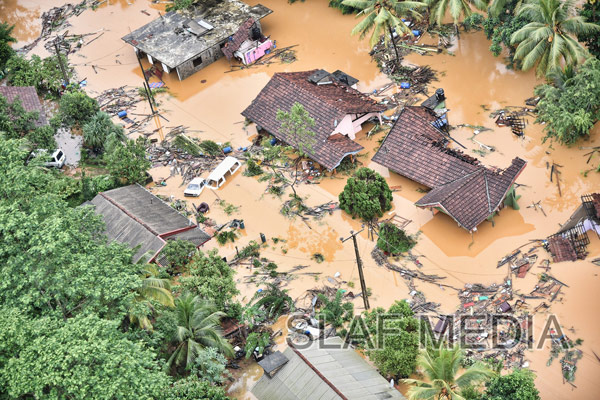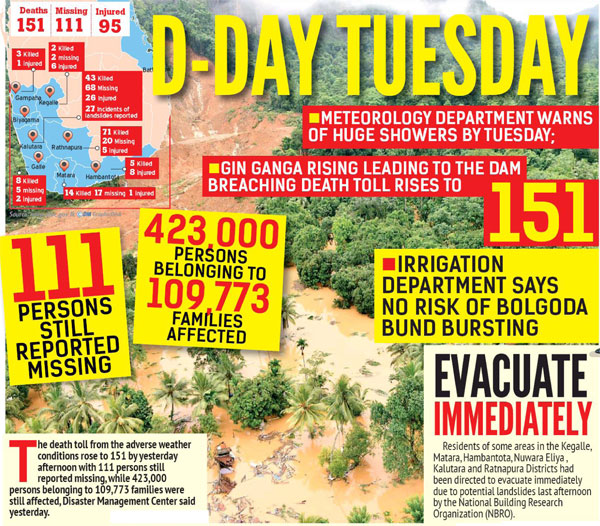 ---
The Disaster Management Center issued an urgent evacuation warning last evening instructing residents living along the Kelani River and within the Divisional Secretariats of Kollonnawa, Kaduwela, Wellampitiya, Kelaniya, Biyagama, Sedawatte, Dompe, Hanwella, Padukka and Avissawella to move to safer areas.
The DMC said the residents of Meethotamulla were already evacuated.
It said water levels in the Kelani River were rising rapidly as indicted by the water gauges at Nagalagam Street, Hanwella and Glencourse and warned residents to move away from the vulnerable area as it was under an imminent flood threat.

Those living along the banks of Nilwala Ganga, The Gin Ganga and Kalu Ganga were also asked to move to safer areas because of the rising water levels.
Meanwhile, the DMC requested the people to be vigilant on rising water levels and requested the public to call 011-2136136, 011-2670002 and 117 for emergencies.
Meanwhile, the Meteorology Department said that rain and windy condition is expected to continue over the South-Western part of the country due to South-Western monsoon.
"Showers or thundershowers will occur at times in the Western, Sabaragamuwa, Southern, Central and North-western provinces. Heavy falls (about 150 mm) can be expected at some places," it said.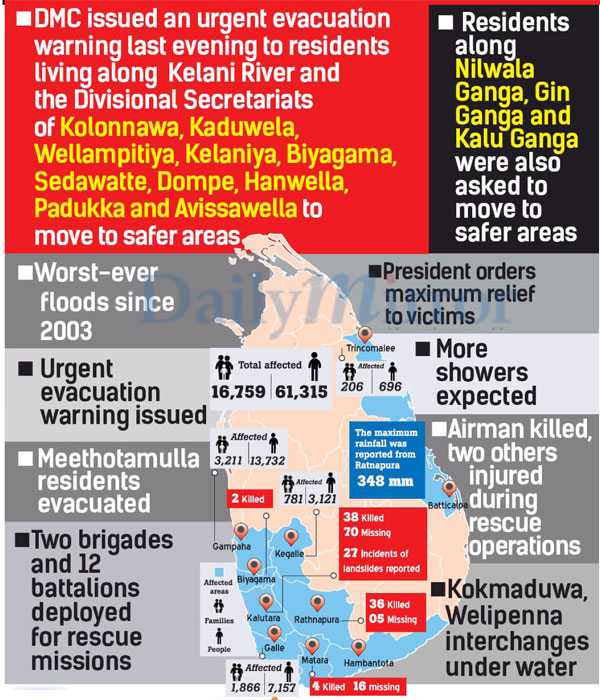 Video by Lanka Nanyakkara, Lal S Kumara, Susantha, Buddhi, RM