---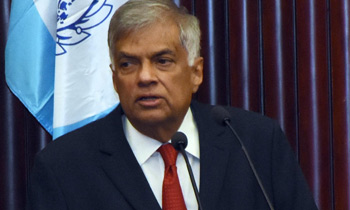 Prime Minister Ranil Wickremesinghe said yesterday a proposal has been submitted to set up a Police and Criminal Justice University for the benefit of police personnel in the country.
The Prime Minister who was the chief guest at the inauguration ceremony to discuss countering terrorism and transnational crimes that affect South and Southeast Asia, said the criminal justice system was paramount to strengthening law and order and enhancing the knowledge of our police personnel.
The event was organized by the International Police (Interpol) in collaboration with Sri Lanka Police Department had held at the BMICH. It was also attended by Law and Order Minister Sagala Ratnayake, Inspector General of Police, Pujith Jayasundara, the Attorney General, the National Police Commission Chairman and senior police officers.
"Unlike the tri-forces the police lack the opportunity for research because of the unavailability of a university. Apart from police officers, the Attorney General's Department, the Bar Association and Customs and Immigration officers could also interact with a Criminal Justice University," the Prime Minister said.
He said they were hoping to expand the scope of the university to transnational justice, rights and countering terrorism, which were some of the projects the government was working on.
The Prime Minister said once the Interpol audit was concluded, we should be able to increase the efficiency of the police cooperation in the region.
"There are new challenges that the police force had to face globally with globalization and development of technology had changed the nature of maintaining of law and order", he said.
Senior officers from Police forces of seven countries in the South and Southeast Asian region including India, Pakistan, Malaysia, Bangladesh, Nepal, Indonesia and Philippines attended the conference.
The conference aims at expanding and developing the regional cooperation in countering terrorism and transnational crimes sharing experiences to enhance knowledge on law and order.(Darshana Sanjeewa)