---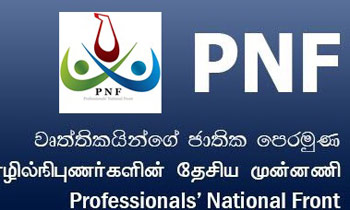 A letter was submitted to the Indian High Commission by the Professionals' National Front (PNF), condemning what was seen as the Indian government's unwarranted influence on Sri Lanka to sign a new Free Trade Agreement with the South Asian giant.
In the letter submitted to the high commission yesterday the PNF said it was forced to oppose the move as the new FTA would not be advantageous to Sri Lanka. It further added that as professionals they were forced to oppose and condemn the Indian government's insistence on Sri Lanka to sign the Economic and Technical Cooperation Agreement (ETCA) which has generated strong opposition in our country.
"As professionals, we cannot agree on your government influencing the Sri Lankan government to enter into a new Free Trade Agreement (ETCA) to include Services in addition to Trade, without taking any tangible steps to solve the existing serious issues with the prevailing ISFTA," the letter read.
The PNF went on to say that the Indo-Sri Lanka Free Trade Agreement (ISFTA) which had already been signed between the countries was of no use to Sri Lankan exporters due to the non-tariff barriers (NTBs) that are operative through the State Governments of India.
"As a result, the trade balance between Sri Lanka and India has expanded exponentially over the years and the trade deficit has increased to more than $ 3.5 billion by year 2016." it said. (Thilanka Kanakarathna)